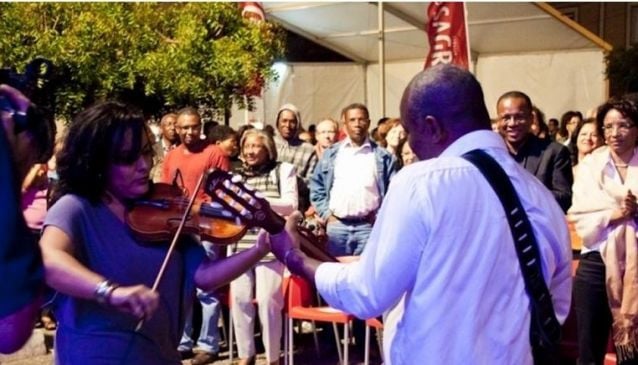 The Kriol Jazz Festival
Arts & Culture
A real highlight of the festival is the jam sessions which are now an institution in their own right
Music plays a hearty role in Cape Verdean culture and indeed daily life. Like its historical influx of peoples, Cape Verde's music is a blend of European, African and Latino styles which climax in the forms of the three traditional genres: the morna, the funana and the batuko. Morna is quintessentially Cape Verdean, and while the name has a disputed origin its style is clear. Saudade in Creole and Portuguese is a longing or sadness that doesn't quite translate, and this feeling is powerfully evoked through morna. There are more Cape Verdeans outside of the country than currently living on its islands so it's little surprise that they are no strangers to the idea of longing. The queen of morna is undoubtedly Cesaria Evora who was known affectionately as the barefoot diva through her incredible career, for refusing to wear shoes on stage. She beguiled audiences and friends with smooth passionate tones and a warm charisma. So beloved is she in fact, that she's almost ubiquitous with Cape Verdean music, and has even been honoured by her home country depicting her in a set of postage stamps, while she was off travelling the world garnering influences from many traditions like blues, fado, and chanson. Despite the sadness of her death in 2011, her influence in Creole music and Cape Verdean culture remains present.
The Kriol Jazz Festival will be taking place in Praia (10-13 April) and this year will mark its fifth anniversary. The festival was built up around the dream of bringing together artists from Cape Verde, the Caribbean, Africa and the Indian Ocean whose influences are blurred with the music of America and Europe, creating a style called Creole Jazz. The line-up for 2013 has some fantastic artists from Cape Verde and further afield. Look out for Senegalese talent, Ceuzany & Cordas do Sol, and the infectious rhythms of Rui Cruz. The Kriol Jazz Festival creates a global communion of all musics that identify as Creole, through jazz. The festival has received international acclaim despite being still in its early years. Creolity is the focus of this event and it's not just music performances which explore this, but workshops too. The first night of the festival is free and open to anyone hoping to catch the bright new talents of Creole Jazz. Then the following two nights are characteristically opened by a Cape Verdean artist and go on to showcase international musicians in a celebration of Creole and jazz fusion from around the world, making for an occasion truly worthy of its global acclaim. A real highlight of the festival is the jam sessions which are now an institution in their own right.
The Kriol Jazz festival is held in Praia on Santiago, which besides being the capital is known as the most 'African' of Cape Verde's islands because it was where 'Rebelados' (slaves fleeing their owners) escaped to, to inhabit the rougher land in the centre of Santiago. This island was also a crucial post in the slave trade. Nowadays Santiago Island produces plenty of bananas, sugar cane, coffee, pork, mangoes and lime, making it a busy port town. The festival is three kilometres from the new airport, and if you're exhausted after a long journey, the beautiful coast is just waiting for you to take a leap into its crystalline waters, or bask in the sun lying back on its white sands.
The old parts of the town have big colonial era buildings to see, and the Praca Alexandre Alburquerque square is worth a nice walk. After that you could stroll along to Avenida 5 de Julio to catch a glimpse of the vibrant market and pick up some mouth-watering local mangoes. Or try the Marcado de Sucupira and wind along its twisting streets to find anything you could dream of spending your CV Esc dollars on; from African cloth, music, delicious local cuisine, household utilities and traditional handicrafts. The Museo Ethnográfico (ethnographic museum) in Praia is also a worth a visit, as is the ancient Kapok tree in a valley close to Assomada, which is 40 metres tall and about 500 years old!
Praia tends not to get too hot or too cold, because it's a warm climate and a coastal town, and April tends not to receive any rain. The capital is more cosmopolitan than its environs, but if you fancy some more 'authentic' Cape Verdean adventures then head outside of Praia or try a little bit of island hopping to get the full flavour of Cape Verde. The festival is only three nights, so hopefully you'll have some time for exploring too.