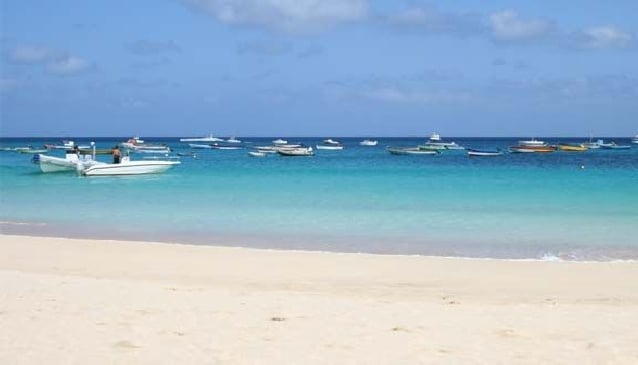 Top Five Things to do in Cape Verde
Inspiration
The weather in Cape Verde is beautiful year-round.
The stunning Cape Verde islands are an exotic fusion of Brazilian, African and European influences. Located at the crossroads of Africa, Europe and the Americas, and with a rich colonial history, this group of 10 islands is still an undiscovered natural paradise waiting for exploration. Furthermore, the weather in Cape Verde is beautiful year-round, with average temperatures hovering in the late 20s and early 30s.
So without further ado, here are the top five things to do in Cape Verde.
Sal & Boa Vista - a Sun Worshiper's Paradise
Imagine warm crystal blue waters, with deserted white sandy beaches as far as the eye can see. Discover the stunning beaches of Santa Maria and Santa Monica on the tourist Islands of Sal and Boa Vista.
Fogo - Climb the Fire Mountain
Visit the majestic island of Fogo, a natural wonder and climb the fire mountain. Towering majestically above the small village of Cha Da Caldeiras, Pico do Fogo awaits the intrepid explorer. After your exploits sample the delights of the locally produced rustic cheese, and wine made from grapes growing in the lush soils.
Santo Antao - A Hikers Paradise
From the chaos of the port village of Porto Novo with a guide and a camera, venture onwards and upwards through the narrow track up and above the clouds to experience one of the most jaw-dropping journeys in the world. Rich vegetation, dramatic valleys and cliff tops await you in this hiker's paradise.
Sao Vicente - Mindelo Carnival
Experience the wild excitement of Carnival in the cultural capital Mindelo on the Island of Sao Vicente. See the vibrant colours, immerse yourself in the music, and listen to the exotic rhythms. Bring your dancing shoes and join in the biggest party of the year!
Santiago - Cidade Velha UNESCO World Heritage Site
Discover Cape Verde's rich colonial history with a visit to Cidade Velha, the first European settlement in Africa and now a UNESCO world heritage site. Visit the old fort and the slave whipping post "Pelourinho".