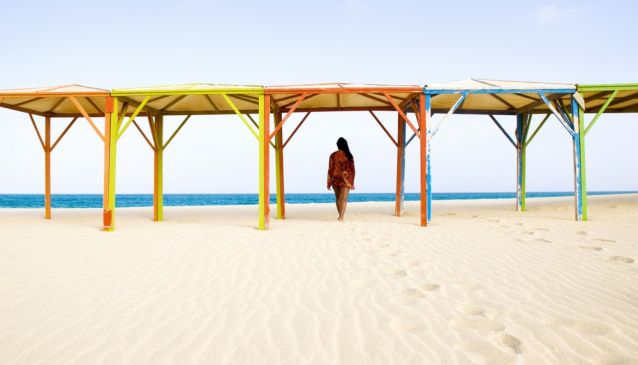 Top 10 Trips in Sal
Hot List
A jet-ski outing could even prove romantic; two people can ride at once.
Sal has been compared to Mars, with its parched and alien landscapes. However, its coastline and surrounding sea is full of life and truly beautiful to behold. There's no better way to explore this gem of an island than on an excursion with Barracuda Tours…
Santa Maria is one of Cape Verde's largest settlements, and this city proudly shows off its fishing heritage. Take the walking tour through the streets and down to the pier, where you can buy freshly caught tuna. You'll get also get the chance to visit the local school during their break, sample the local 'pontche' liqueur at the handicraft centre, and browse the African market. Buying anything from these areas will directly benefit the local community.
15€ per person.
Book a full day tour in a 4x4, taking in some of the most spectacular sights on the island. Giving you the chance to discover some of Sal's natural phenomena, this exciting excursion takes you to the Olho Magico - a 'magic eye' in a watery turquoise cave - and the mirage of Terra Boa, where you'll find the desert plays tricks on you. Among other sights, this day tour takes you to the Pedra de Lume salt pans, where you can experience the incredible buoyancy of water 26 times saltier than the sea.
36€ per person for groups of five or more.
Nothing terrifies you more than the thought of sighting sharks while swimming? Never fear - this tour stays on land, skirting around the swell of Shark Bay in open pick-ups. Spot the fearsome fins slicing through the water, with both bull and tiger sharks regularly seen around the Cape Verde islands. This tour finishes up with an off-road jaunt through several towns, dropping you off at a charming Santa Maria restaurant, where you can calm your nerves with a complimentary drink.
30€ per person.
Barracuda Tours offer a myriad of boating options around the island of Sal. Whether you'd like a short sail to a couple of bays, or a full day trip soaking up the sun, there is always a boat waiting for you in Santa Maria harbour. Climb aboard a spacious catamaran for a smooth navigation to Murdeira Bay and back, allowing you to spend a day marvelling at the vibrant underwater world while swimming and snorkelling. Or book a similar catamaran for a special three hour excursion from the fishing pier, where you'll get the chance to spot whales and dolphins leap metres from your boat.
Other marine tours include a day trip on a beautiful wooden schooner, sailing to Murdeira Bay in the evening - relax in the cooling air, either fishing, swimming, snorkelling, or simply sending stunning photos to friends via the free on-board Wi-Fi. For the fish fans, try the glass-bottom boat trip which lets you view the amazing marine life of Cape Verde, while also circumnavigating two fascinating shipwrecks.
From 33€ per person.
If chilling out aboard a drifting yacht isn't your thing, perhaps you'll appreciate a more adrenaline-fueled activity. How about jet-skiing? Head to the fishing pier in Santa Maria and jump on one of these monsters, rented in tandem with an instructor. It can take a few goes to get the hang of this sport, but you'll soon be riding the waves like a pro. A jet-ski outing could even prove romantic; two people can ride at once. Just no fighting over who gets to drive.
From 70€ per jet-ski.
Cape Verde is an underwater paradise for keen divers. Whether or not you've dived before, Barracuda Tours can offer the right excursion for you - from providing equipment and boats to tutoring you towards your first exploration. Sal is a fascinating playground for the underwater enthusiast; choose from over 20 spectacular dive sights, including wrecks, caves, coral reefs and lava tunnels. The tropical waters are like another world, filled with vibrant flora and fauna such as rockfish, bream, turtles, dolphins and sharks.
Diving isn't for everyone, and if you're not confident or just fancy something a little easier on the ears, why not go snorkelling instead? Embark on a boat that navigates three beautiful marine spots including a shipwreck and coral reef. All equipment is provided, and you can spend an afternoon floating about with an array of tropical fish.
Diving: from 40€ (one dive) / Snorkelling: 20€ per person.
Nothing gets the pulse pumping like roaring down a deserted beach! Get your kicks on the quad bike tour, with either a two or four hour excursion into Sal's sandy centre. Start off at the salt mines of Santa Maria ('sal' means 'salt' in Portuguese!), and cover sights such as the Turtle Cemetery, Kite Beach, Murdeira Bay, and the Oasis of Algodoeiro, where you can make friends with the donkeys that gather here to drink. The four hour trip will also take in the dramatic landscapes of Salina in Pedra de Lume, where a quick drive up the volcanic crater reveals amazing views over the salt mine below.
For a similar off-road experience, hire beach buggies for a three hour trip around the Sal coastline. Stop off at the beautifully isolated bay of Calheta Funda, where you can pick up some delicate shells and take some spectacular photos.
From 70€ per quad/buggy (both take one or two people).
With a perfect position in the winter tradewind belt, Cape Verde boasts ideal wind conditions from November to June, and has become one of the world's top five destinations for windsurfing. Infinitely easier to master than windsurfing, kitesurfing hooks a board up to a large kite, catching the wind and sending you speeding through the waves. Barracuda Tours work with several excellent centres across the island that are happy to introduce you to the sport; beginners can stretch their sea legs in the calm waves of Santa Maria bay, while seasoned pros will enjoy the unique offshore wind of Kite Beach.
Take an intro course (90€), an eight hour basic course (290€) or a private lesson (90€).
Image credit: [ScottGriff]
Fishing certainly isn't a sedentary sport in this part of the world. Barracuda Tours charter a variety of boats that can take you on a fishing trip of a lifetime. There are too many different fishing methods to mention - deep sea fishing, trolling and vertical jigging are among those offered, with catches including parrot fish, bream, yellowfin tuna and sailfish. And if you're on the island between April and August and fancy a spot of big game fishing, book a day trip to Sal's best spots, where you're likely to land a 500lb blue marlin!
Get seasick? Try surf casting, which lets you stay on dry land and fish. Meet a fishing guide in the evening and cast off from the beach into the sea, with help every step of the way. Big fish often come close to shore at this time of day, so you've got every chance of catching seabreams, bonefish, eels and sharks.
Some large fish have to be released, but you will receive a certificate documenting your catch.