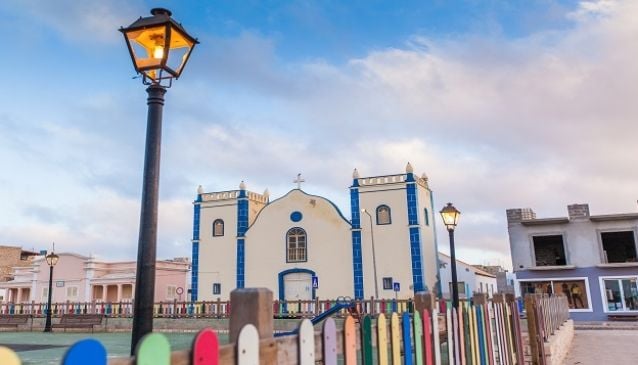 What Not to Miss in Cape Verde
Editorial
Thinking of Cape Verde as purely a beach destination overlooks its fascinating heritage
It is hard to disregard the fact that Cape Verde is blessed with some of the most incredible and stunning beaches in the world. Relaxing upon its golden sands is no doubt the main draw for many of the Archipelago's tourists, however, thinking of Cape Verde as purely a beach destination overlooks its fascinating heritage. Here is a list of things not to miss on the islands, away from the coastline; stop soaking up the sun, and soak up some culture instead!
Cidade Velha, Santiago
This haunting, 15th century town is perfectly preserved on the island of Santiago. A UNESCO World Heritage Site, Cidade Velha was the first European colonial outpost in the tropics, and so bears the scars of Cape Verde's battle for independence.
A walk around this evocative, ancient world tells a vivid tale of the Portuguese colonial past of the country, and includes the original street layout of the settlement, as well as the beautiful ruins of the oldest colonial church in the world.
Pedra de Lume Salt Crater, Sal
Renowned for its salt mines, the tiny town of Pedra de Lume in Sal is home to an incredible, naturally occurring salt crater and pools. Situated inside the mouth of an inactive volcano, this crater is a breath-taking and spectacular sight to behold.
For those with an adventurous spirit, it is possible to swim in the crater's beautifully clear pools, which can be a tad chilly in the colder months.
Assomado Market, Santiago
For a true taste of the bustling, lively atmosphere of Cape Verdean life, head to the Assomado Market on Santiago island. This crazy maze of stalls and sellers is a chaotic explosion of colour and vibrancy, with locals selling everything from fruit and veg to live chickens.
The market is held twice weekly and starts early, so make sure you set your alarm! There is no better way to capture a snapshot of local island life than by swinging by for a supply of fresh produce.
Whale-Watching, Boa Vista
The shallow waters around Boa Vista provide perfect conditions for humpback whales, and so taking a boat out to sea to spot them frolicking around is always an unforgettable experience.
The humpbacks usually populate these waters during their seasonal migrations, and are a truly magnificent sight as they charge through the sea in large pods.
Campo do Tarrafal, Santiago
This harrowing site on the island of Santiago is a poignant monument to the Portuguese colony of the past. The Campo do Tarrafal was set up by the dictator Antonio de Oliveira Salazaar, after the Spanish Civil war began, as a prison camp for those who opposed his oppressive regime. A visit here provides a deep, sobering insight into Cape Verdean history.
Paul Tal, Santo Antao
Nestled in the beautiful Vila das Pombas, Paul Tal is one of Cape Verde's most breath-taking natural phenomena. A beautifully lush, green valley, Paul Tal is best enjoyed on foot, providing an excellent setting for hiking trips.
Stroll through stunning mountainous landscapes and bountiful mango, banana and papaya trees. The scenery of Paul Tal is one of the archipelago's best-kept secrets.
Torre de Belem , São Vincente
Modelled on the Torre de Belem in Lisbon, Portugal, this majestic tower overlooks the bustling area of Mindelo on São Vincente island. Not only is the tower itself worth seeing, in all of its grandeur, the views from the top are truly spectacular. If you do climb the tower, it is advisable to hold onto the rails as it is a notoriously windy spot!
Flickr credit: Paulo Quintas Sampaio
Museu de Tabanka, Santiago
Works of fine art, exhibitions of native music, workshops and insights into local life, this Santiago museum has it all. With a particular focus on the music and rhythms of Cape Verde itself, Museu de Tabanka is bursting with impeccable, vibrant and engaging exhibits that will intrigue visitors of all ages.
Igreja Nossa Senhora da Graca, Santiago
This visually stunning church stands grandly, overlooking the island of Santiago. Built in 1917 in a neo-Gothic style, the chapel is a captivating example of architecture. It is also possible to explore the inside of the church, which is decorated in a truly distinctive style. Marrying religious reverence with beautiful design, Igreja Nossa Senhora da Graca is a unique place to visit.
Cha das Caldeiras, Fogo
Cha das Calderias is one of Cape Verde's most fascinating villages. It consists of a tiny community of roughly 1000 people, living within the crater of volcano Pico de Fogo. Due to this unusual location, the village is independent from outside governance.
A visit here is both eye-opening and edifying; the people live with no electricity or running water, and are completely self-sufficient. A trip to the village is not complete without sampling the wine produced by its inhabitants.
So, with such a wealth of cultural attractions, it's time to hang up the beach towel, and discover all that Cape Verde has to offer!
Flickr credit: Mickael T