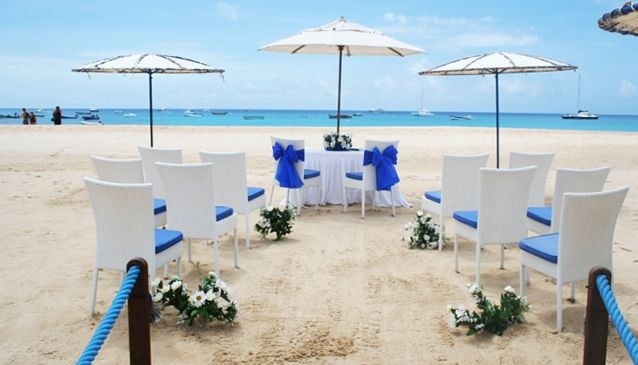 Wedded Bliss in Cape Verde
Inspiration
Wedding packages with Cape Verde Weddings start from as little as £1,000 (plus flights).
As more and more couples turn their back on the vagaries of the great British climate for a wedding in guaranteed sunshine (thus guaranteed sunny smiles on those all-important wedding photographs), the search is on for locations which offer unspoiled beaches, hours of endless sunshine and a wedding packed with memories which will last a lifetime.
In Cape Verde, where the pace of life is as laid-back and relaxed as the sun loungers on the beach, the local mantra is 'no stress.' And, with weddings being right up there with divorce and moving house as the causes of greatest stress, surely the no-stress opt-out has to be appealing?
The weather in Cape Verde, and its pure white beaches and crystal-blue seas, mean this largely undiscovered destination is a great hit with European visitors in search of the sun. A wedding in Cape Verde could be the ideal option for you.
A former Portuguese colony, situated just 500 Km off the West Coast of Africa, the Cape Verde islands are around five and a half hours' flying time from the UK – much closer than the Caribbean and consequently cheaper in terms of air fares and those ever-increasing fuel surcharges.
There are weekly flights to Cape Verde from most of the UK's major airports, including Gatwick, Manchester and Birmingham and wedding packages can be tailor-made to suit by Cape Verde Weddings, the island's top wedding organisers.
Jennie Bennett runs the company from her home in Kent, while daughter Victoria handles day-to-day issues from her office in Sal, from where she is also able to meet and greet happy couples and their guests as they arrive in Cape Verde.
Jennie is well-placed to plan the perfect wedding in Cape Verde – as she did it for her own back in 2009!
"It's really a case of been there, done that – got the wedding dress!" she says.
Cape Verde Weddings will collate everything you need for your special day, from translation of documents to hairdressing and photography, as well as the service itself.
Couples can choose a civil ceremony on the beach or a religious ceremony in a church, accommodation in a choice of hotels or apartments, a wedding breakfast and all the extras at a price to suit their budget.
Increasingly, the company is getting requests for renewal of vows on the island.
"It's the perfect way to combine a romantic holiday with a special anniversary or celebration," says Jennie.
Wedding packages with Cape Verde Weddings start from as little as £1,000 (plus flights).
For further information, contact Jennie Bennett, Cape Verde Weddings, Tel: 01622 817155 / 07834 536671.