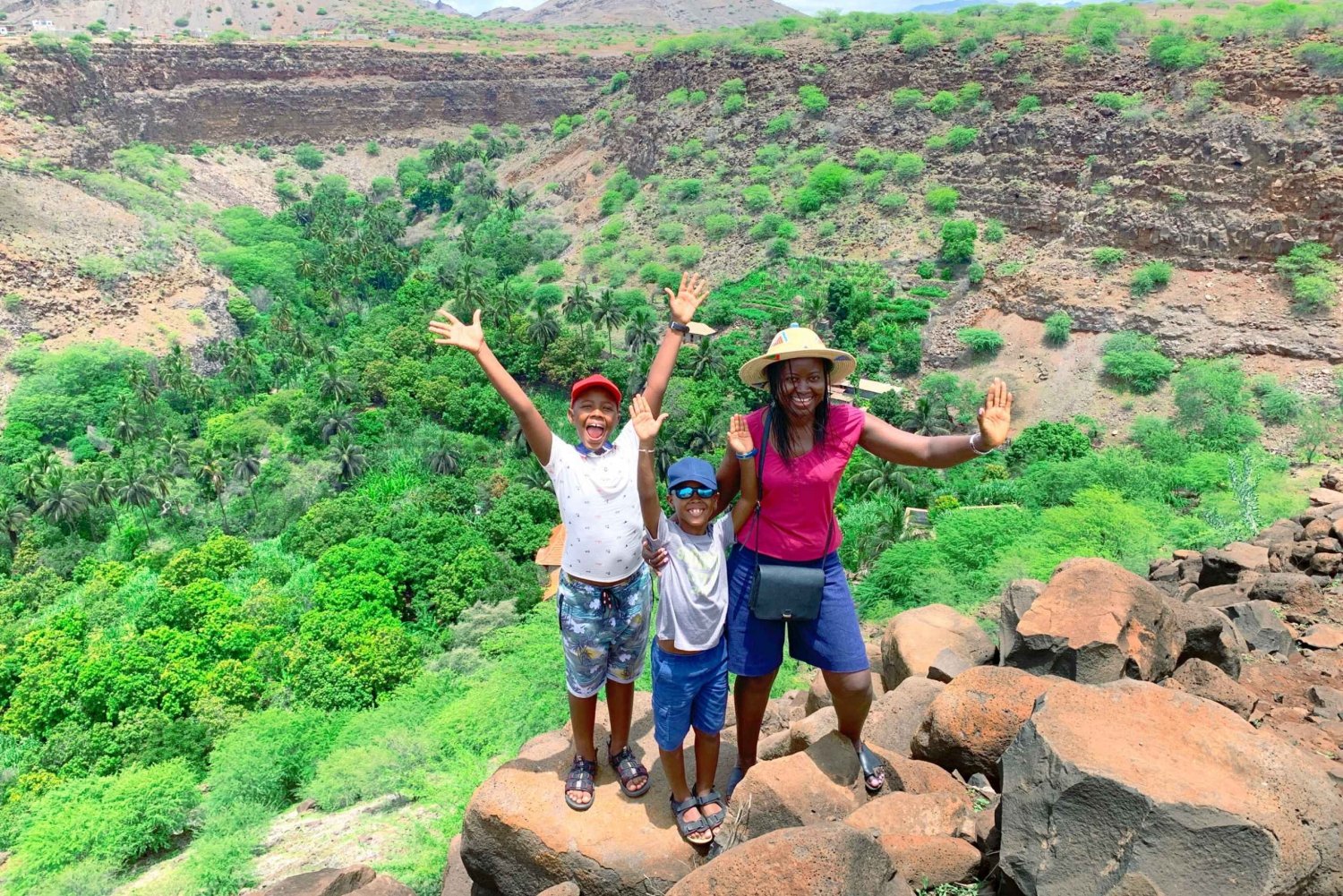 Event Details
Highlights
Walk through dense tropical vegetation in the beautiful Calabaceira Valley
Visit a local rum distillary at the heart of intact nature rich in local fauna and flora
Explore all the highlights of Cidade Velha, a UNESCO World Heritage Site
Discover the former slave market, Nossa Senhora do Rosário church, and more
Choose between a shared group or private tour
Description
After being collected from your accommodation in Praia, depart toward the small village of Calabaceira. Start your 3-hour hike from the top of the valley, with an oasis of vast vegetation emerging in its interior. Follow a simple and accessible trail for any hiker, and explore the green valley famous for both its baobab trees mentioned by Charles Darwin and its use as an escape route for slaves during slavery. Next, discover the local fauna and flora, and have the opportunity to experience the production of a local rum-making distillery. There, get in touch with local farmers and their agricultural fields of sugar cane, mango trees, cassava, banana, and more. Arrive in Cidade Velha, a UNESCO World Heritage Site, and visit the São Francisco Convent, Banana Street, and Nossa Senhora do Rosário church. Have a break for lunch and savor local delights in a typical restaurant right on the seafront. After lunch, visit the former slave market, the ruins of the Sé Catedral, and the Royal Fortress of São Filipe. From the top, enjoy a beautiful view over the whole old town and find out about the system of defense used against pirates. The tour concludes with drop-off at your accommodation in Praia.
Includes
Pickup and drop-off at your hotel in Praia Transportation Tour Guide Liability insurance
Important Information
Trail Distance: +/- 5 km
Total Walking Duration: +/- 2 hours
Degree of difficulty: Easy
Elevation gain: +/- 3 m
Elevation loss: -/+ 186 m
Max Elevation: +/- 200 m
Min Elevation: +/- 14 m
Trail type: One Way
Path quality: Medium tilt, narrow at the beginning and safe.
Shared Group Trek option is subject to a minimum of 2 participants. In the event that the minimum number is not met, we reserve the right to propose an alternative date; to charge an extra fee to run the tour privately or to cancel a customer's booking for a full refund.
Easy cancellation
Cancel up to 24 hours in advance for a full refund
Save up to 5%

Reserve Your Experience

From €70.00

€66.50

Buy Tickets!