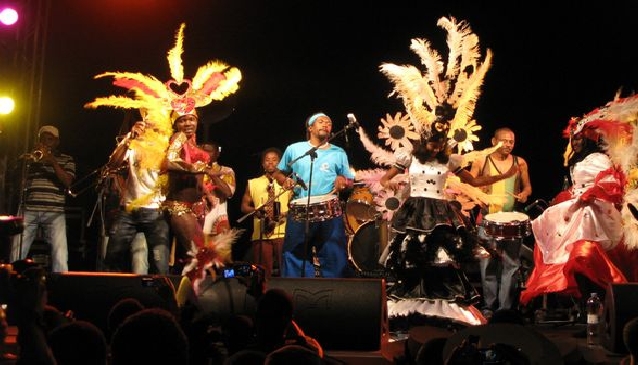 Raucous Rhythms
Arts & Culture
Music and dance has always played a central role in Cape Verde culture.
Music and dance has always played a central role in Cape Verde culture. Intertwined within a somewhat turbulent past, music has been used to lift moods in times of need and to provide a creative outlet for the people of this captivating island. During the Cape Verdean Diaspora for example, when locals fled due to droughts and lack of opportunities, soft and soulful melodies were there in full force to keep spirits soaring and minds occupied.
Being such an integral part of the island's outlook therefore, it comes as no surprise that Cape Verde hosts music festivals throughout the year, showcasing traditional acts such as 'The Barefoot Diva' (Cesaria Evora) and more modern artists including Mayra Andrade and Lura. And, shaping up to be a few great months full of raucous and rhythmic beats, this summer is set to be no exception. Beginning with the legendary Baía das Gatas Festival held on the island of Sao Vicente, from the 12th to the 14th of August, crowds will gather on the sandy shores of Baía beach to join in with the party. And, with local and international acclaimed artists playing this year, this festival is right on track to continue with its popular past.
Following close suit is the Sal International Music Festival. Held in Santa Maria Sal, on the 16th and 17th of September, this vibrant music event is another of the big names in Cape Verde. Though acts are still to be announced, Sal is set to be bursting at the seams with big bands and loud traditional sounds this summer.
As Cape Verde is an archipelago of ten islands, the idea of island hopping has become popular among both locals and tourists. With organised itineraries, day-trips, the Cabo Verde Fast Ferry and inter-island flights, this is made easy offering the perfect way to drag your dancing shoes from one festival to another. And, with accommodation options from hotels to rentals on all the islands, including Sal and Sao Vicente, there are plenty of places to rest your feet up at the end of the night.
Leaving you lastly with a taste of the feisty flavour and raucous rhythms of Cape Verde, here are some snippets describing a few traditional dances that you may well witness at the festivals this summer….
The Morna
Born on the island of Boa Vista and originally sung by slaves, this traditional dance is tinged with a touch of tragedy and sadness but is beautifully effective nonetheless. Performed with an ensemble of stringed instruments including violins, violas and cavaquinhos- a basic form of ukulele- this traditional dance is truly moving.
Bold gyrating limbs, loud drum-banging, singing, shaking and trance-like-twirling, the Batuko is an African extravaganza that was unsurprisingly banned by the church for 500 years. Now flourishing in full force again, you will witness female dancers perform this devilish dance within a circle of female drummers.
This defiantly anti-colonial and accordion-based dance originated on the island of Santiago. Formed of repetitive up-beat rhythms, this couples dance is fun, fast and catchy and you will find it everywhere in Cape Verde from the festivals to the bars and clubs.