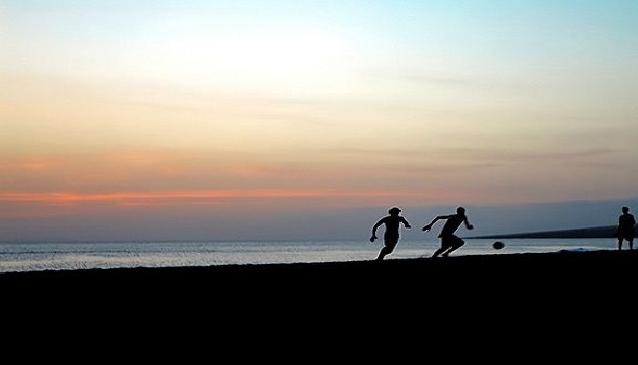 Cape Verde Football
Inspiration
Cape Verde is ranked 15th in Africa and it is dreaming of great achievements in the future.
It is rare for a country of only half a million people to have given so many international football stars to the world. Cape Verde's national team, known as the Blue Sharks as a tribute to the nation's seafaring spirit, has never qualified for the African Nations, which is the main soccer tournament in the continent, but, in recent years, it has been getting closer and closer to that honour, and football has become the most popular form of Cape Verde entertainment.
It is not uncommon for small countries outside of Europe to fuel the world's most prestigious teams with their exported talent. Manchester United or Juventus pay millions of dollars for players that can make a difference in their local championships, which results in countries breeding great talents losing them to the European giants. The last World Cup's 3rd runner up Uruguay is a good example: a country known for their outstanding local talent only managed to make a name for itself after many years of poor results, when trainers realized that fostering and developing local talent would pay better than bringing players back from Europe to train for a month, then go on to compete in the World Cup, without a true sense of belonging and team spirit.
In a way, this process is taking place in Cape Verde nowadays, and savvy experts such as International Football Agent Tony Araujo predict a bright future for Cape Verde, as long as the nation succeeds in implementing grassroots plans to develop talent from the ground up, and doing something to keep some of it at home.
Cape Verdian football abroad
The large
Cape Verde immigrant community
in the US has developed a prestigious amateur league, and some of the local teams of Cape Verde descendants have achieved great results on a national level, for example, the Massachusetts-based Emigrantes Das Ilhas FC reached the finals in the highest US national amateur competition in 2009.
If we look at all the players in the international scene who are Cape Verde-born and descended from Cape Verdians, it is very easy to imagine that a team made up of such talents might surely face some of the world's football superpowers, such as Brazil, Holland or Italy, on equal terms. The list includes even one of the top stars of our day, namely, Cristiano Ronaldo, whose grandmother was Cape Verdian, though he was born in Brazil.
The Blue Sharks That Never Were
Former Barcelona and Manchester United player Henrick Larsson's father Francisco Rocha was Cape Verdian. Having inherited the passion for football from his Cape Verdian side of the family, Larson nevertheless kept his mother's name, because he thought it might be easier for him to be accepted in Sweden, where he was born and raised. Larsson played for the Swedish national team for many years, and he now leads a successful career as a trainer in that country.
Carlos Almeida da Cunha, best known as Nani, who plays for Manchester United was actually born in Cape Verde, but his family moved to Portugal when he was a child, and he now plays for the Portuguese national team. Manchester United paid Sporting Lisbon £14.5 for Nani's transfer, in a similar way as Cristiano Ronaldo was also signed over to Manchester from Lisbon in 2003. Nani, who plays as a winger, is one of the starts of the team, his performance and consistent (and often spectacular) scoring made him a nominee for the PFA Young Player of the Year in 2011.
Another Cape Verdian-born star footballer who wears a different country's national jersey is Gelson Fernandes, who was born in
Praia
. The player best known as Gelson currently plays for the Udinese in Italy, but also played for Manchester City and Saint Etienne, among other top European teams. Gelson's family moved to Switzerland when he was 5-years old, and he plays for the national Swiss team, for which he scored a goal during the 2010 World cup against Spain.
Another player with Cape Verde origins is retired Portugal national Jorge Andrade, who played for Porto, Deportivo La Coruna in Spain and Juventus in Italy, and he scored a goal for Portugal in a World Cup qualifying match against Luxembourg in 2005. Andrade is one of the footballers who hasn't forgotten his roots; he has been known to do grassroots football work during a visit to the homeland.
The also retired Senegal-born Patrick Vieira's mother is Cape Verdian. Vieira is a French national, because his family moved to that country when he was a child. After his debut playing for Cannes, Vieira played for Juventus, Internazionale and Manchester City. He was part of the national team of France that won the World Cup in 1998, playing a key role in the victory goal, and he continued to wear the French jersey for over 10 years, achieving numerous honours.
Blue Sharks History and Players
The way Cape Verde football has evolved can be seen in the nation's FIFA ranking evolution, from position 182 in April 2000 to occupying the 62nd place in March 2012.
Cape Verde while ranked 117 in the world managed to hold the mighty Portugal to a 0-0 draw during Portugal's World Cup preparations in 2010. The result was even more remarkable as Portugal had a full strength side including Cristiano Ronaldo and Nani.
In the qualification campaign for the 2006 World Cup, the Cape Verde football team went all the way to the Final Round. In 2010 Cape Verde came up second in its series in the Second Round, above Tanzania and Mauritius, though behind Cameroon, but didn't make it to the Third Round.
The Blue Sharks most important triumphs include winning the Amilcar Cabral Cup in 2000 and the
Lusophony Games in 2009.
The latest line-up of the Cape Verde national team includes a number of internationally acclaimed players. Odysseu Guy Ramos, currently plays in the Netherlands for RKC Waalwijk, Toni Varela plays for Sparta Rotterdam, Ryan Mendes da Graça plays for Le Havre in France and Valdo plays for Levante, while Valter plays for CD Alcala, both in Spain. The list includes players from local Cape Verde teams as well, such as Vozinha and Cadu from Mindelense, Kadu from Boavista de Praia, Dario from Sporting the Praia and Adilson from Académica da Praia.
The Future
The team's current manager Lucio Antunes, who has put together a team of players who play abroad, complains that it is hard to prepare the team for international matches in such a short time, not being able to rely on players who are available to train in Cape Verde for longer periods. However, Antunes maintains that he is working on making the team spirit stronger, and he is very confident about Cape Verde's possibilities in view of the next world cup in Brazil.
Cape Verde is currently ranked 15th in Africa, and it is dreaming of great achievements for the future.
Loved Sean's account of football in Cape Verde? You might the following useful!